We are offering private cooking classes, with a minimum of 8 and maximum 12 people. The class lasts 3 hours and takes place in the kitchen of La Boulangerie & Co Wilson, 1945 W Wilson Ave, Chicago, IL 60640.
Concerning any Groupon coupon, please contact us at cookauvinclasses@gmail.com
Chef Vincent's approach to learning to cook is all about being relaxed and having fun together: a little bit of wine, some conversation, some laughs, some bread and cheese, some more wine, and a lot of cooking in between! Everyone is encouraged to bring 1-2 bottles of wine (we are BYOB). If you are interesting to have interested in having a complete nice French experience, take a look at the wine selection of La Boulangerie Logan on the order website online: https://laboulangeriechicago.com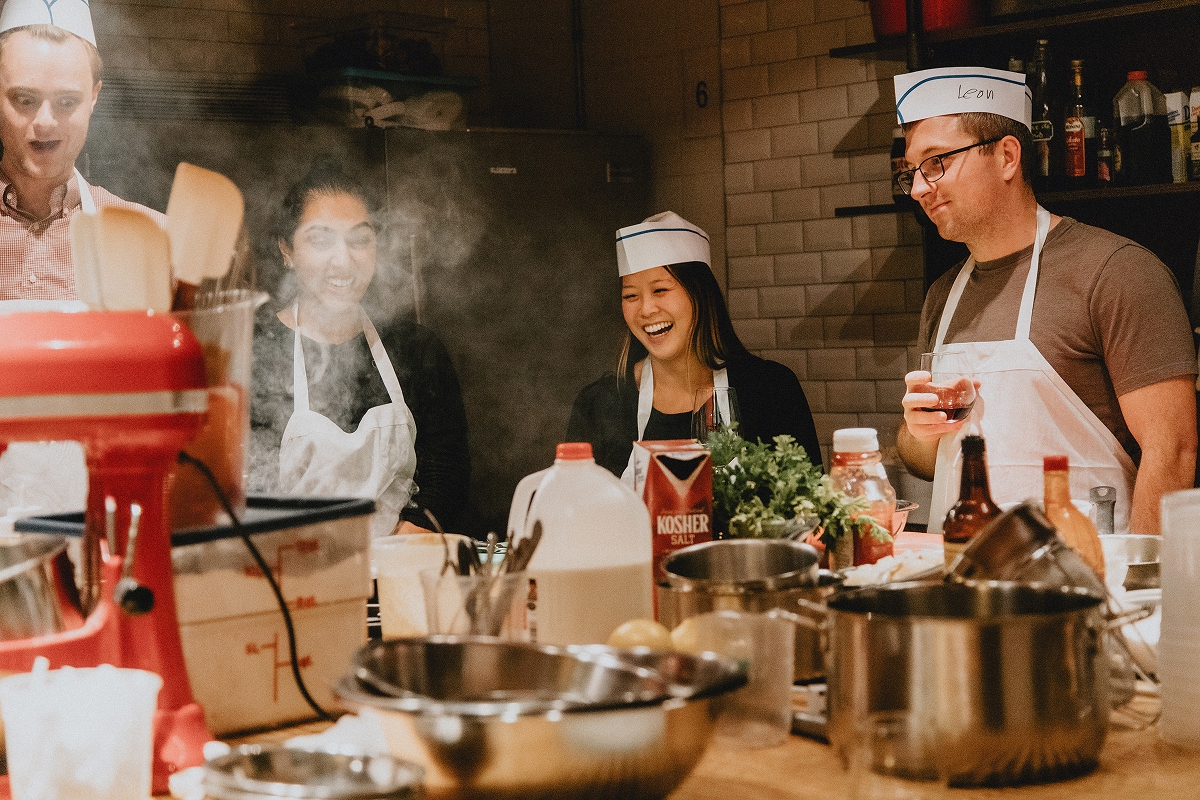 The class begins with an apéritif with fresh bread and cheese selection. You will then be provided with caps to write your name on and aprons. The whole group will be preparing the menu all together, dividing the tasks amongst each of the participants, under the guidance of the chef. Once the dinner ready, you will get to enjoy the fruits of your labor together in our cozy dining area.
PRICE :
Culinary Menu: 8 to 12 people $135/person*
Delicacy Menu: 8 to 12 people $155/person*
*Do not included tax & gratuity of 20%

Our expert pastry chef will guide you through the delicate art of pâtisserie, and send you home with recipes that will be sure to wow your sweet-toothed loved ones!
Student will be guided all along the way by the pastry chef and create desserts selected by the Chef:
French macarons
Pate a choux
Eclairs
Chocolate ganache & pastry cream

Bread Class, upon request only
Have you ever wondered how the Tradition Baguette from La Boulangerie is made? Cook au Vin gives you the opportunity to learn how to make your own baguette, and other breads, at the French bakery La Boulangerie Wilson. At the end of the class, enjoy the freshly baked bread with a complementary assortment of cheese and charcuterie selection!

Looking for a unique and fun experience for your Baby Shower, Bachelorette Party, Kids Party, Graduation Celebration, Birthday Party… ? We can customize a private cooking event for this special day!
Our kitchen can be rented under the management of our chef. Or our Chef can come to your house or venue. Size is limited to 16 people (8 people minimum). For smaller or larger groups, or for any reservation, please contact us at cookauvinclasses@gmail.com. Please indicate the number of people invited, as well as the preferred dates and time.