Indulge in the art of private cooking with our exclusive classes, tailored for intimate groups of 8 to 12 people. Immerse yourself in a 3-hour culinary experience hosted at the kitchen of La Boulangerie & Co Wilson, in Ravenswood. Additionally, we offer specialized Team Building cooking classes designed for larger groups. This extended 4-hour class promises a unique blend of teamwork and culinary exploration. Join us for a personalized gastronomic adventure!
Chef Vincent's teaching philosophy centers around creating a relaxed and enjoyable cooking experience. Picture this: a touch of wine, engaging conversations, shared laughter, bites of bread and cheese, more wine, and a generous sprinkle of cooking excitement throughout! Feel free to bring 1-2 bottles of your favorite wine (we're BYOB). For a complete French immersion, explore the curated wine selection at La Boulangerie Logan on our online order website: https://laboulangeriechicago.com.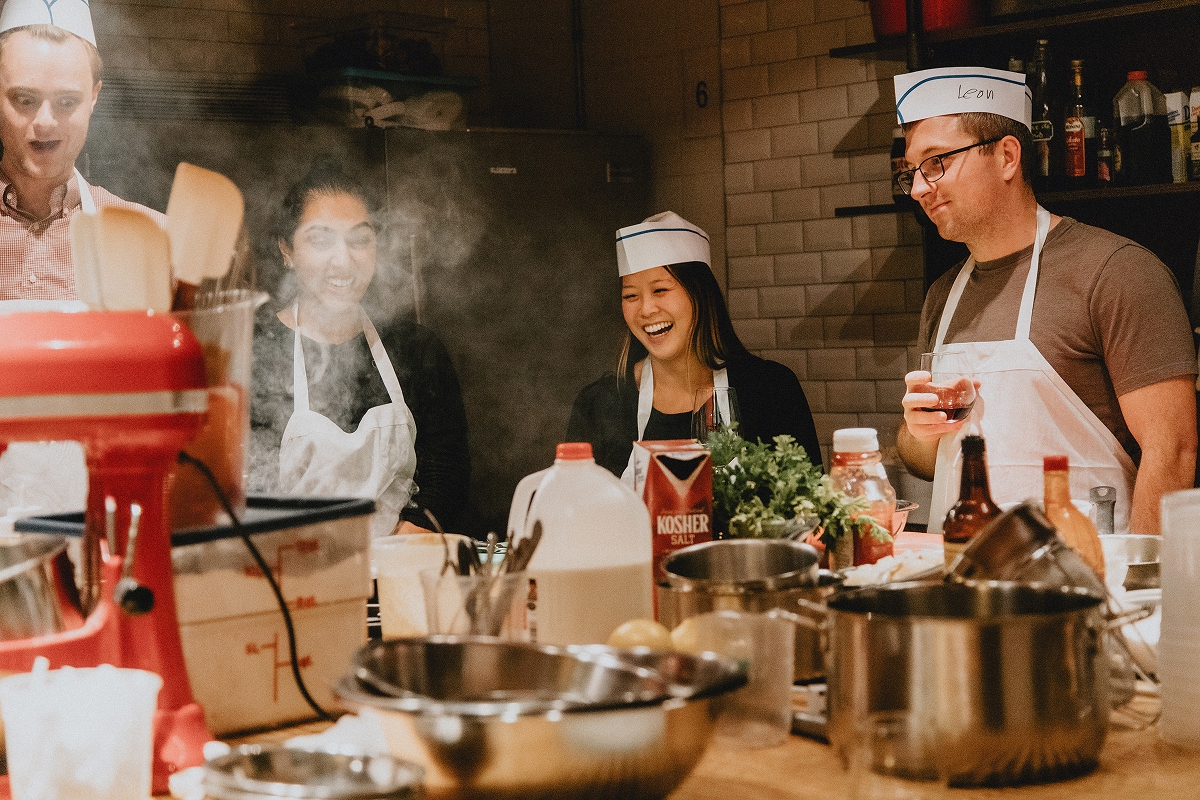 Embark on a culinary journey as the class starts with an apéritif, highlighting a selection of fresh bread and cheeses. Each participant receives a personalized cap and apron. Guided by the chef, the group collaboratively tackles the menu, distributing tasks. After the adventure, savor the fruits of your labor in our inviting dining area. It's more than a class; it's a shared experience, from preparation to the delightful feast.
PRICE :
Culinary Menu: 8 to 12 people $135/person*
Delicacy Menu: 8 to 12 people $155/person*
*Do not included tax & gratuity of 20%

Join us for a delightful culinary journey crafting punchy, bite-sized appetizers. Designed for those seeking the perfect balance between culinary exploration and leisure, our 4-hour class accommodates 14 to 25 participants—perfect for team-building. This unique experience fosters a relaxed atmosphere, ideal for beginners dipping their toes into the world of gastronomy. Discover the joy of creating delectable bites while mingling with fellow food enthusiasts, all in a setting that lets you choose your preferred level of culinary involvement.
PRICE :
Cocktail & Mingle Menu: 14 to 25 people $115/person*
*Do not included tax & gratuity of 20%

Uncover the secrets of La Boulangerie's Tradition Baguette in our exclusive 3-hour Bread Class. Immerse yourself in the art of crafting your own baguette and sourdough at our Bucktown kitchen commissary. The class concludes with the joy of savoring your freshly baked bread alongside a complimentary selection of cheese and charcuterie. Join us to experience the magic of artisanal bread-making!
PRICE :
6 to 10 people $99/person*
*Do not included tax & gratuity of 20%

Create unforgettable moments for your special occasions, be it a Baby Shower, Bachelorette Party, Kids Party, Graduation Celebration, or Birthday Party. We offer customizable private cooking events tailored to your unique preferences!
Rent our kitchen under the expert management of our chef or bring our Chef to your house or venue. Ideal for groups of up to 12 people (with a minimum of 8), we can accommodate various group sizes. For reservations or inquiries about smaller or larger groups, please reach out to us at cookauvinclasses@gmail.com. Kindly specify the number of guests, preferred dates, and times to ensure we create the perfect culinary experience for your celebration.